Since late 2019, COVID-19 has fundamentally changed the state of work, with companies throughout Tulsa -- and the world -- reorganizing their entire operation to ensure customer and staff safety while still retaining profitability and productivity.
And thanks to remote working options, teleconferencing tech, and understanding clientele, many businesses have been able to weather the storm of COVID and are now able to see a more promising future beyond.
But now, in a work-from-home (WFH) era brought about by the pandemic, many are beginning to question if returning to the office is really all that important -- or, should we just say 'bye-bye' to the office completely?
Though there are some great benefits to working from home, the data doesn't lie: It's never been more important for businesses and their staff to return to the office.
We'd never ask you to take our word for it, so let's jump into the findings together and understand why your business (and every Tulsa business) should get back to the office for the good of your staff, leadership, customers, and your bottom line.
How Does Your Business Benefit from Returning to the Office?
While work-from-home tech has afforded many businesses the ability to keep things afloat during the pandemic, the rigors of being without a productive central hub of operation have definitely taken their toll in these past years.
By safely returning to offices that are going above and beyond to help protect tenants, their staff, and customers from COVID, businesses can again reap the managerial, cultural, and other benefits of having a centralized workforce.
Return to the office with peace of mind
Our office spaces are equipped with the staff, technologies, and protection your business deserves. Reclaim your productivity with peace of mind.
Your office fosters effective communication and makes management easier.
No matter what industry you're in, there's no doubt you've felt the pain of trying to keep teams invigorated and focused throughout the pandemic.
Don't worry. You're not alone.
Managers throughout the United States have reported that keeping teams upbeat and on task has only gotten harder since work from home has become the norm.
Moreover, the negative effects of long-term WFH operations are well documented and erode the very heart of any successful business: communication.
In one of the largest studies of its kind, researchers from the University of California sought to find out just how working from home for long stretches of time was affecting information workers -- the largest class of workers in the U.S.
Sifting through the data of more than 61,000 study participants, the data was clear: collaboration suffered, communication became more siloed and walled off, and it became much more difficult for workers to share information within the company.
And if you've been in business any length of time, you know that communication is the key to solving almost every problem.
With communication taking such an objectively destructive blow when WFH is the norm, what business can truly afford the cost of rejecting the return to the office?
Your office helps keep team morale high, and makes team-building easier.
While COVID pushed us apart physically, it didn't push away the need for us, as humans, to physically be around one another in order to fulfill our very real need for social interaction.
Cut off from the office -- many people's only source of daily interpersonal connection -- worker mental and emotional health has continued to erode.
According to the American Psychological Association's 2021 study, more than 66% of all work-from-home workers feel isolated and lonely throughout the working hours.
In turn, this constant loneliness and isolation leads to an undeniable and well-documented reduction in productivity across the board, regardless of industry or role.
This is where your office becomes one of the strongest tools in your arsenal for building motivated, passionate, and effective teams that get things done.
An office helps you safely reconnect your team members with one another where they can once again feel socially connected, appreciated, and have meaningful discussions with team members and managers who care for their well-being.
Your office is where your company's culture is strengthened and shared.
Your office isn't just where you and your employees work.
It's the cornerstone of your company's presence in the communities you serve and it's the place where your company culture is practiced, grown, and shared with others.
When deprived of this shared space, it's extremely hard for your employees -- especially new hires -- to feel like they're a part of a shared force for a common good.
And devoid of that feeling of sharing a purpose with other like-minded people, employee engagement plummets, and begins to erode any meaning behind why your employees feel like they should strive to serve your customers and clients.
But when allowed to safely connect with one another, your employees can see the satisfaction they're bringing to their co-workers. They see the joy and relief their efforts bring to customers.
And they can immediately feel the impact of how their work directly impacts the lives of others around them, bringing an undeniable sense of fulfillment and feeling truly connected to the vision, purpose, and culture your brand is building every day.
IT infrastructure and security are less cumbersome and less costly to manage.
Sysadmins throughout the world have been the unsung heroes of the pandemic.
Helping acquire, retrofit, and ensure the architecture of millions of companies have been able to shift to a WFH world has been a herculean, and invisible, task that's literally kept the world running.
However, this immense undertaking has also brought about a fearsome beast that IT and cybersecurity professionals have yet to tame: The unique security and infrastructure demands and costs that a more hyper-connected workspace demands.
By returning to a more centralized workspace, your IT teams can establish more effective device management policies, reducing the overall number of devices they need to manage.
Moreover, returning to the office also helps limit the total number of potential points of vulnerability your organization needs to digitally (and physically) secure and track.
According to MalwareBytes, a leading cybersecurity firm, cyberattacks, breaches, and the costs therein have done nothing but skyrocket since the pandemic -- with more than quarter of all firms reporting they had to shell out major dough to pay for unexpected attacks on WFH devices.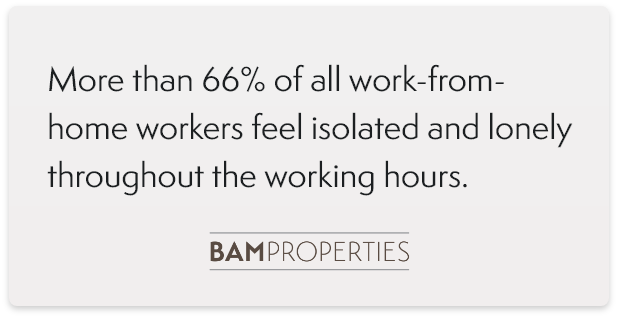 How Do Employees Benefit from Returning to the Office?
Naturally, the push for the return to the office has been lambasted as "employers just wanting more control" and "out-of-touch bosses not getting with the times!"
Sound familiar?
Rather than listening to outrage and clickbait, we always want to dive into the data, listen to the experts, and present you with the objective facts about how the return to the office can be an instrumental factor in improving the wellbeing and fulfillment of your employees.
Your office helps your employees get back into a healthy routine.
Though the thought of adhering to a routine might make some of us buck, the truth is that humans need at least some semblance of routine in order to maximize our productivity and feel fulfilled in our work and life.
Moreover, the routine of waking up at the same time, grooming ourselves, and all of the steps we take to prepare for the workday go a long way to reinforcing better physical, emotional, and mental health.
While not everyone's routine need be the same, the benefits are well-documented by physicians and psychologists alike:
Reduced stress levels

Improved sleep and deeper physical relaxation

Better cognitive function throughout the day
Your office bolsters your employees mental and emotional health.
More than anything, your office is the place where your workforce reconnects with one another.
And while the hectic era of 2020 and beyond might make us wish we should just swear off other people altogether, the truth is that you and your employees need that daily social connection.
Without it, we're prone to a host of emotional and mental health issues including:
Loneliness

Irritability

Depression

Increased Anxiety

Greater feelings of imposter syndrome
Your returning to the office doesn't just return your teams to peak cohesion and performance -- it's pivotal in helping your teams meet their mental and emotional needs and, in turn, perform at their best.
How Do Your Customers Benefit from Your Business Returning to the Office?
Your return to the office doesn't just benefit you, your business, and your employees -- it also has a tremendous impact on the clients and communities you serve and reinforces your investment and longstanding commitment to your industry and city.
You can better protect the health and safety of your customers and clients.
By investing in a BAM office space, you're investing in a team and environment that prioritizes the health and safety of its tenants and that of all guests -- including your customers and clients.
Through your office, you send a clear message to your customers and the communities that you serve that you care for their health and wellbeing and you're dedicated to giving them an environment that takes the dangers of COVID-19 seriously.
You give your clients a space to strategize and plan the future of their business.
As you well know, business owners, so to speak, are often building the plane as they're flying it.
They rarely have time to truly dedicate themselves to just thinking about the future and direction of their business -- how they're shaping their company's culture, how they're going to connect with new and existing customers and how they're going to partner with you in doing so.
By returning to the office, to a safe place where they can leave their day-to-day concerns at the door.
Your office gives them a place where they can lean on your expertise, dedicate the time they need to decide the direction of their business, and trust that they've made the right decision in trusting you for the goods or services they rely on.
Work with our trusted team of experts to help your Tulsa business return to the office.
Return Your Tulsa Business to the Office with our Team of Trusted Experts
We've helped countless Tulsa businesses return to the office and reinvigorate their organization's productivity, cohesion, and profitability.
No matter the scope or scale of your business, we're ready to roll up our sleeves and get to work in creating the perfect midtown or downtown Tulsa office space that fits your unique needs.